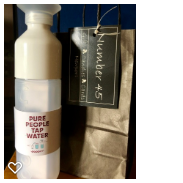 June 19th is National Refill Day and to commemorate the occasion and celebrate how many Refill points we now have we ran a competition.
Water bottles were donated by Number 45 and Be Bold Media and people could enter by posting a screenshot of the number of Refill points in the App. In order to ensure the information was up to date we added a few more business's the day before bringing the total in and around Newport up to 28.
The competition was a really useful way to increase app downloads and awareness of the app. Our winning entries were selected from a hat by staff at Number 45 with winners collecting their prize from the library. A big thanks to everyone who took part!
Please follow and like us: