Plastic Free Newport
Simone continues to make herself known around the county as the go to person to start a plastic free town campaign including TWC. She has helped set up and mentor Shropshire Against Pointless Plastic and did a talk at the Green Shrops exchange AGM. We were also finalists for the BESST Sustainable Business Award because of her inspirational work. On 14/7/20 we hosted a plastic free picnic by the canal basin. Simone was also instrumental in getting the number of water refill points around town. Tom King represented the town on Radio Shropshire on the 19/6/19 and we officially became a plastic free town on 9/9/19. Susanne has worked with her school at Hollinswood to become the first plastic free school in the county. Thank you to everyone involved for their help with this fantastic achievement.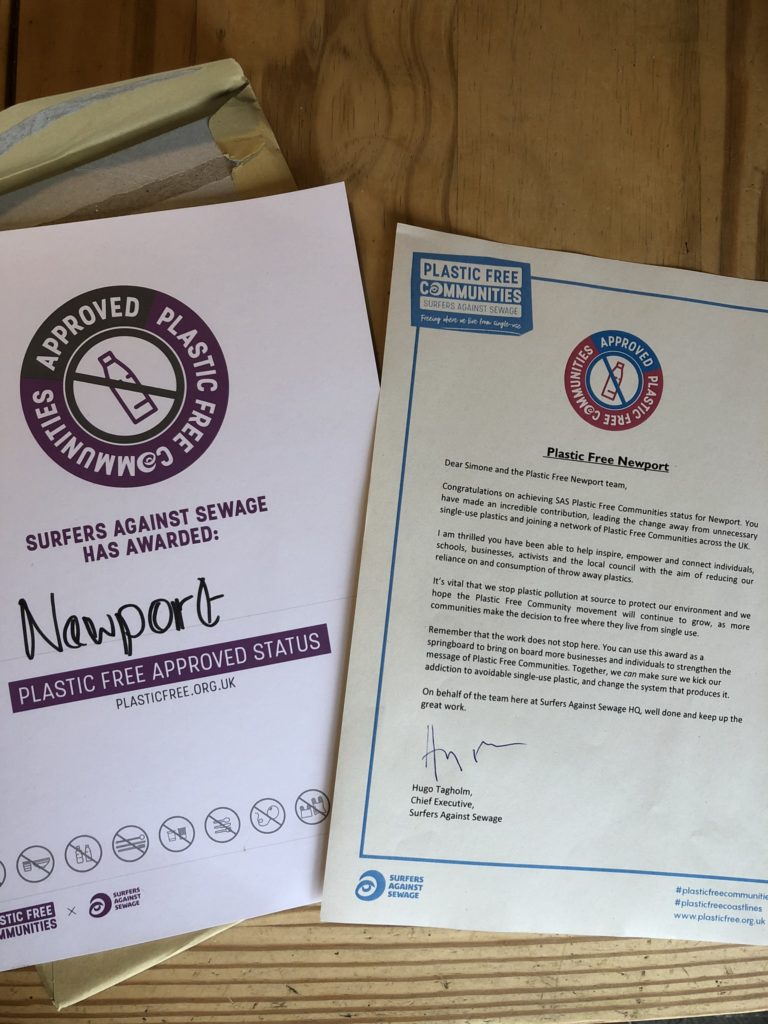 Food Frenzy
At the food frenzy we launched the Newport Pint which was taken up by many of the stall holders. Subsequently The Honeysuckle has also taken a stock to use on their student nights
Blackberry Fair
Simone and I had a stand at the Blackberry Fair in Whitchurch to start the town off on their plastic free journey. We had many interesting conversations and the town now has a working group.
Pass It on
In November and January we held our Pass It On which is so much more successful now it is held in the Library. The January event saw 190 people attend 585 items/175 Kg recirculated. Thank you to Susanne who continues to do a great job organising these.
Terracycle
This is proving to be very popular and is raising lots of money for the scouts, in particular. Thank you to Kirsty for organising the crisp packets, Susanne for organising the writing implements and Sandra for the toothpaste tubes.
Greendrinks
We have restarted Greendrinks this year with varying success. Talking about Climate change was a great way to get to know one another although sadly the speaker from XR couldn't make it. Plastic free Christmas was unfortunately not well attended, however Alan Greenow from Suez talking about what really happens to our recycling was well attended. Thank you to Gabby for liaising the Alan.
Telford & Wrekin Climate Partnership
After many years of talking about this we and other groups and businesses around T&W are members of the T&W climate partnership, we now have influence to drive local policy change.
Covid 19
Then came lockdown and it feels like an eternity since we did anything. There is much to be learnt from this situation. Our destruction of natural habitats and our exploitation of nature brought about this new virus, whether we'll learn to prevent other such outbreaks remains to be seen. As a community we have learned that we are supportive and cohesive, coming together to help others when the going gets tough. We have learned that our food (and toilet roll) supply chain is very easily disrupted and that keeping that supply chain as short as possible gives a community resilience. We have learnt to support our local business and keep our local economy going, we have learnt that we don't need to commute to work or drive to the shops every day, that reliable broadband really is the way forward not new roads or railway lines.
Black Lives Matter
The BLM movement absolutely fits into the sustainability agenda. It may seem inconsiderate to whinge about climate change when the BAME members of our society have discrimination to deal with every day of their lives. Think of it like this: if you allow climate change and sustainability to be low down on your to do list then you are accepting that there are regions of the world and the country that you consider to be "sacrificable". These areas are generally more polluted and inhabited by poor, disadvantaged non-whites. Sustainability and equality go hand in hand.
The Future
I am standing down as chair not because I am going anywhere but I have been doing this for 5 years now and I am conscious that we must not stagnate. It is time for another person to take on this exciting role. Thank you to everyone for your help and support over the year and here's to a challenging but invigorating next twelve months.
Thank you to Philip Knight A.C.I.B for kindly independently examining our accounts for the year ending 31 March 2020.
He reports "I have examined the accounts of Newport 21, Sustainable Newport, for the year 1st April 2019 to 31st March 2020 and I have found them accurate and well kept".
Please follow and like us: