Dates for your diary:
Sat 19th Nov 10 – 12 Difficult to Recycle collection (note we are no longer collecting milk bottle tops. Newport Library

Sat 19th Nov 10- 12 Christmas jumper swap. Newport Library

Fri 25th Nov 4pm – Christmas Jumper Swap. Christmas lights switch on St Marys St

Thurs 8th Dec 6.30pm – People, Planet, Pint in conjunction with Small99 and Krystal Webhosting. Come and join us for a Christmas drink and a chat. Navy Club Register using this link to get your first drink free

Sat 17th Dec 10 -12 Hard to Recycle. Newport Library.

Jan 9th 6.30 – 8pm Committee meeting Newport Library 

Sat Jan 21st 10 -12 Hard to recycle. Newport Library

Sat Jan 21st 1-3 Pass It On and (hopefully) Repair Cafe. Newport Library

Tues 31st Jan 7pm Civic Soc Energy Saving Ideas. St Andrews Church Hall Church Aston       Find Out More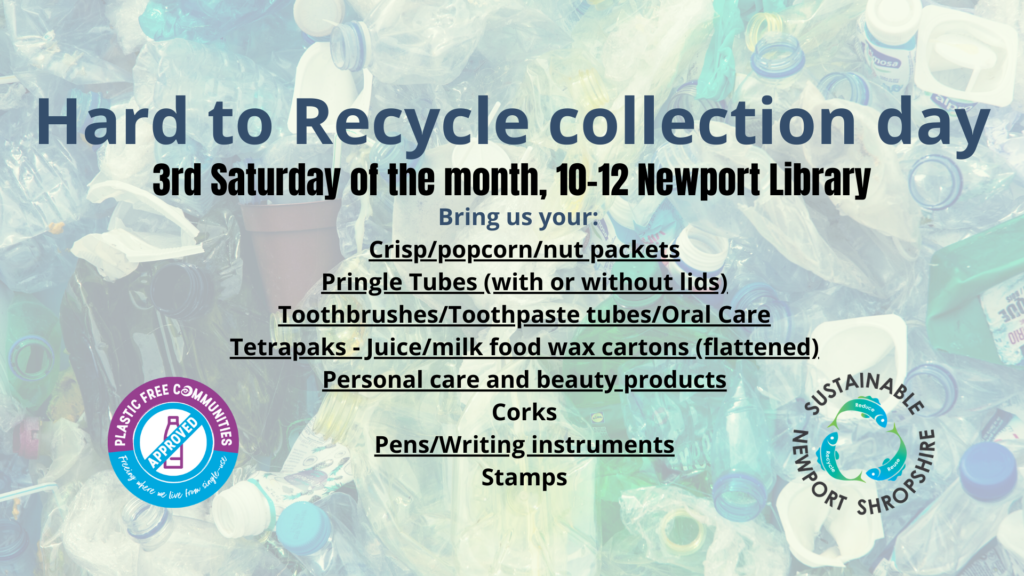 Hard to Recycle Collection 3rd Saturday of the Month, 10am – 12pm Newport Library
Please only leave with a member of the Sustainable Newport team, the Library staff are not allowed to accept anything and they have very little storage space. We are very grateful that they allow us to use their space and we don't want to jeopardise this.
We are now collecting :
Flattened crisp popcorn and nut packets
Flattened and washed Tetrapaks
Oral care items including Toothpaste tubes and toothbrushes