Pass It On Jan 26th 9.30 – 11.30 Newport Library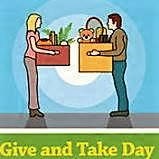 Choose to Reuse!
Make reuse a new habit at Sustainable Newport's Pass It On Event 26 January 2019
Local environmental group Sustainable Newport is holding the first of its 2019 reuse events on Saturday 26 January from 9:30 – 11:30 at Newport Library. Participants at previous Pass It On events have saved hundreds of useful items from being dumped in landfill
Clear out your clutter! Bring along your surplus items, and see what new-to-you items catch your interest. Items should be genuinely reusable, clean and non-hazardous; no electrical items as we can't test them to make sure they are safe. Perhaps you have unwanted Christmas gifts, games or toys that don't get used, too many baskets gathering dust in the shed, books, household or gardening items. Give these items that are cluttering your cupboards a new home, and browse items others have brought to see what useful treasures you can find, all for free. You can bring items, take items away or both bring and take items – you don't have to bring to take away, and you don't have to take away if you bring.
Reusing unwanted goods is a great way to easily participate in helping the environment. It reduces waste to landfill, helps conserve energy and natural resources as new goods aren't unnecessarily manufactured, and saves you money by not having to buy new goods.
Everyone is welcome to come along and browse the free goods on offer. Surplus items will be donated to local charity shops.